In The Embrace of the Alligator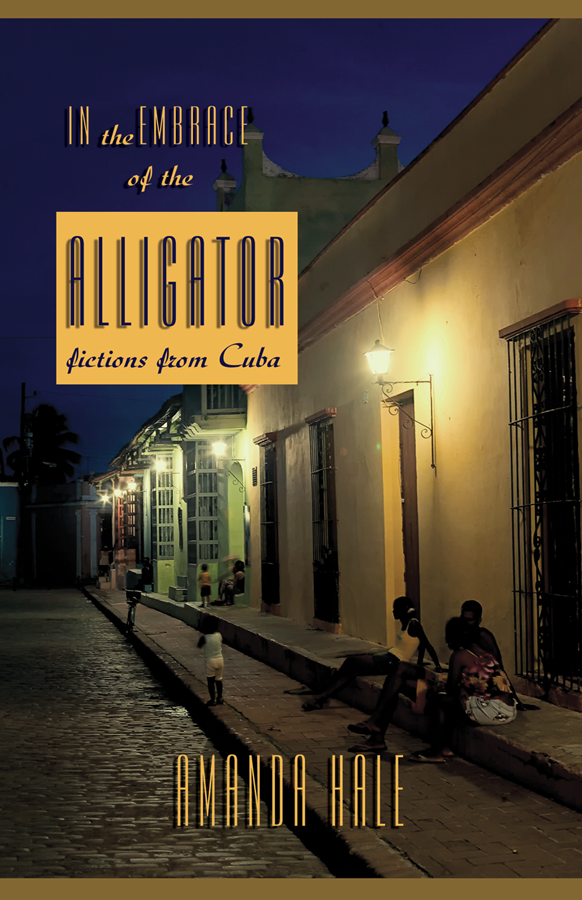 short fictions by Amanda Hale
Published by Thistledown Press, Spring 2011.
In the Embrace of the Alligator –  In this series of linked fictions, unified by place and a cast of overlapping characters, Karina travels the length of El Caimán, the alligator which is Cuba, sweeping from Havana to the reptilian eye of Baracoa, where she meets Onaldo, an Afro-Cuban writer who becomes her lover. Their affair inadvertently reveals more than she could ever have imagined of the mysteries of Cuba as she learns on the streets, between the sheets, and in the kitchens of Baracoa the real story behind the smiles and the music.
Pedro Iván tumbles from his balcony in a moment of disbelief; Mirian Zelda guides the souls of the dead until the mysterious disappearance of Marek Svoboda; Yolanda waits for her posting to Venezuela with a mixture of longing and dread; Mario, a gay man, serves a seven-year sentence for dancing with his foreign lover; Linancia falls into the necessity of life as a jinetera; Lorenzo grins as he remembers his life behind the wall in Leipzig. As the veils fall one by one Karina falls deeply in love with the true and hidden life of El Caimán.
This is one of the best collections of stories I have read. As a Cuban myself, reading In the Embrace of the Alligator has been like looking at myself in a mirror. It made me laugh, it also brought tears to my eyes, and sometimes it made me feel angry and ashamed. I am amazed by Amanda Hale's grasp of Cuba's reality, and by her remarkable insight into our culture. Tomás Aquilino Lopez – writer and art curator.
Written with warmth, compassion and understanding, In the Embrace of the Alligator is one of those rare glimpses into the real Cuba, its people, and its stories. Eva Stachniak, author of Garden of Venus and Necessary Lies.