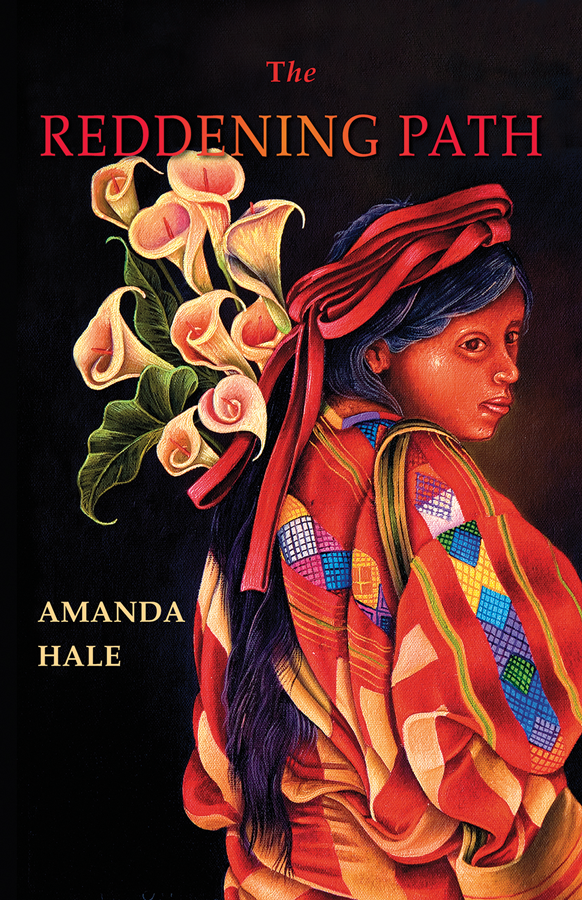 Thistledown Press, 2007
The Reddening Path     21-year-old Paméla returns to her native Guatemala to search for her birth mother. Her quest turns into a multi-layered journey and uncovers a tangle of political and romantic intrigue as Paméla, a student of Latin American history, discovers her Mayan heritage and learns about the complexities of life in Guatemala. The history of the Spanish conquest weaves throughout the narrative, coloring the lives of everyone she encounters in her birthland: Guadalupe and María-Teresa, the nuns who help her; Ernesto, the General, and Fabiana, his mistress; Chavela, a weaver, and Antonio, her wounded husband, home after twenty years as refugees.
The love affair between Hernando Cortés and his translator, Malinche – parents of the first significant mestizo, Martin Cortés – becomes a poignant counterpoint to the bond between Fabiana and the General, whose army was responsible for the destruction of her village. In going home Paméla discovers the spiritual and emotional complexities facing those of mixed blood and adopted cultures as she reaches back to the first imprinting of European culture and Catholicism on the indigenous life of Meso-America.
"Amanda Hale is as much at home in the period of the Spanish conquest as she is in contemporary Guatemala. A powerful and well-written novel." – George Szanto.
"The Reddening Path is a fascinating study … of Latin American history … Cortés' rise and fall and his personal conflict between passion and duty are expertly evoked in prose that's bursting with imagery … The Reddening Path is a compulsive page-turner." – NOW magazine
Hale has re-imagined the love affair between the Spanish conqueror Hernan Cortéz and his indigenous translator and concubine, Malinche . . . Hale has sympathetically re-examined Malinche's life as a distant mirror for the complex bi-cultural path that her heroine Paméla is required to walk. In the process, she recasts Malinche as easily one of the most remarkable and influential women in the course of North American history." – BC Bookworld
The Reddening Path is cleverly structured, with a style that fluctuates between dreamlike poetic imagery and a traditional quest-for-identity narrative … an intriguing look at post-colonial biculturalism set against a moving backdrop of familial love and personal enlightenment. – Quill & Quire
"Hale expertly draws us into a world where past and present coexist. The characters are so connected to place they seem born from the soil itself … She describes early Meso-American life and the excesses of Moctezuma's court as if she'd lived in 16th century Tenóchtitlan, the Aztec capital. " – Vancouver Sun